Robert Smith Court
"We have created a sense of pride and social responsibility in the community"
A shared vision
In 2018, a small group of residents from Robert Smith Court in Lumphinnans, Fife came together to organise maintenance of the communal space surrounding their social housing. With a desire to make the area safe and welcoming for residents, the Robert Smith Community Group soon grew to 250 members.
In an area that they described as run down and often subject to anti-social behaviour, the community group did their best with the resources they had available to improve the attractiveness of the communal space. Despite being nearby to several green spaces, there were no facilities to encourage local people to walk or cycle, and in general residents weren't sure how to access these areas.
A community garden flourishes
Through the Social Housing Partnership Fund, the Robert Smith Court Community Group received £9,960 to install a covered bike shelter, garden furniture, and noticeboards to create a community garden. Regenerating the unused communal land, the community group successfully created a friendly and welcoming hub for residents.
The community garden had its official launch in August 2020, celebrating the incredible dedication and hard work achieved by the residents.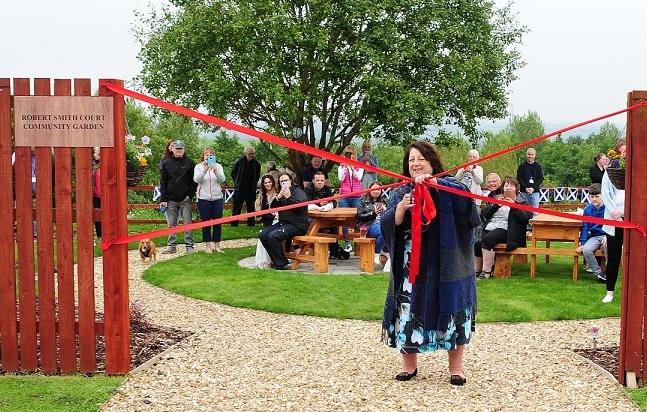 Alongside the new cycling facilities, noticeboards and social media are being used to promote the local network of walking and cycling routes - giving people access to information on nearby beauty spots in Lumphinnan and Lochore Meadows and encouraging them to get outdoors.
"People now enjoy the quality of life here"
When asked if this project had an impact on social cohesion, Mark Davies, co-founder of the Robert Smith Court Community Group said: 'Without a doubt. Before the opening of the community garden, residents tended to exist in isolation. Now, since the launch event and making the walking and cycling routes available online, they're all friends on Facebook!
"We have had coffee mornings organised, the community garden launch, and even a Christmas lights switch-on. We've created a sense of pride and social responsibility in the community, and this has turned around the anti-social behaviours that we saw too often before."
"There are new friendships that weren't there before, and the majority of residents have bought into the community group. Now people want to live here."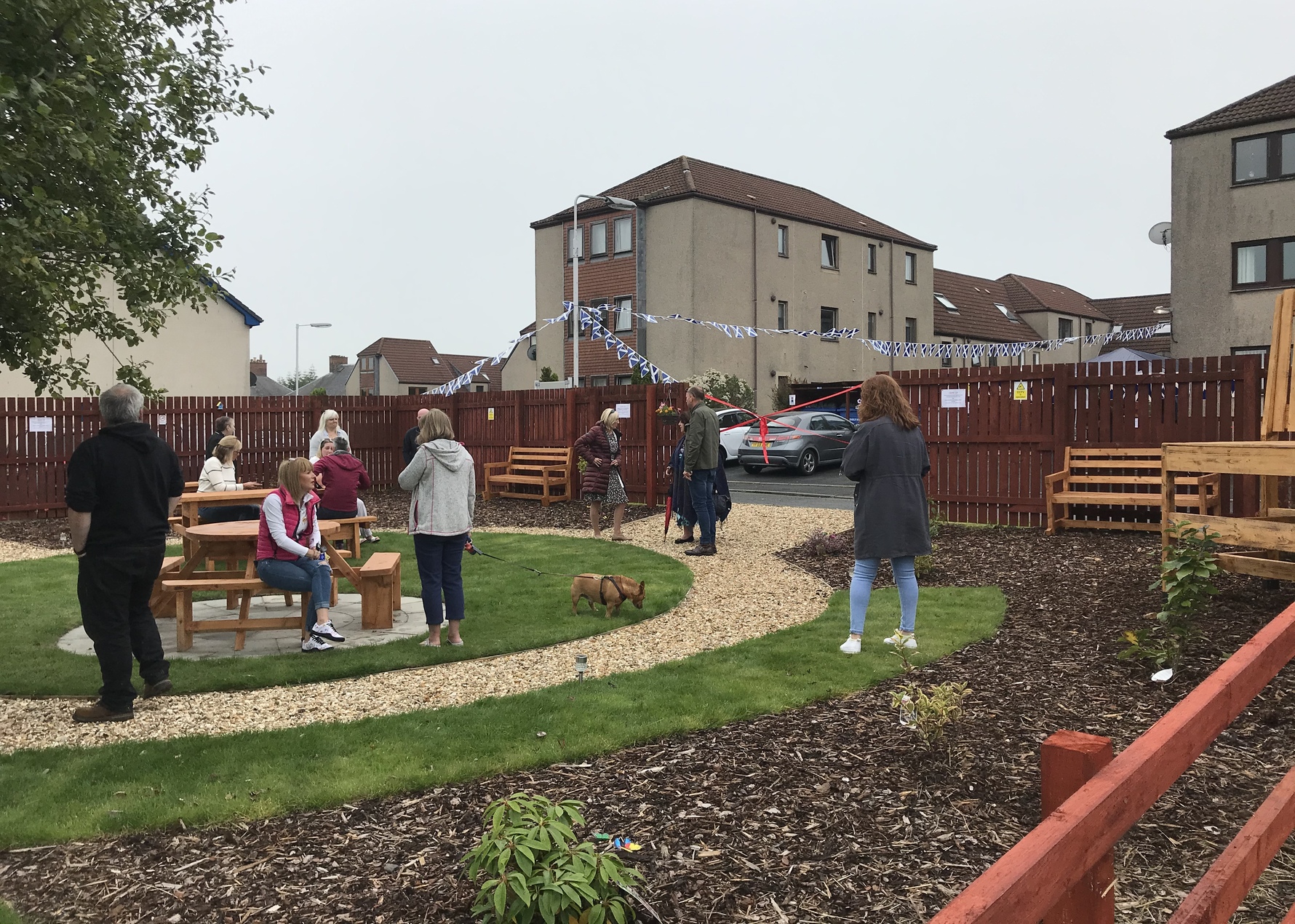 An increase in cycling
Before the communal space was regenerated, it was rare to see a bike around Robert Smith Court – due to poor storage facilities, bike theft was a worry for residents. Now, with the increased trust and sense of belonging built up in the community alongside security measures such as CCTV, some bikes are even stored in the covered shelter permanently. There is no longer the barrier of unsafe storage, so more and more residents are taking up cycling for everyday journeys.
The community garden and hub had a particular impact on people's wellbeing during the pandemic, when travel was restricted. Families without cars, of which Mark says there are many, were able to benefit from local green areas. "Previously these families thought that a trip to local green places would have involved a bus ride, however now they can get out and take advantage of their environment and the positive wellbeing that the outdoors brings. The garden was used by a lot of families while they had to home-school their kids."
Partnership working
Mark, and co-founder Evelyn Sneddon, were very positive about working with Cycling Scotland: "Without the help of Cycling Scotland, we couldn't have created the community hub. The funding was fantastic and allowed us to do so much with it".
Now that this neighbourhood resource has been launched at Robert Smith Court, the co-founders want to make sure that all the residents feel empowered to continue developing and maintaining the space. Next up in Community Group plans is the creation of a play park to benefit families in the area without private gardens for kids to play in.
As community links strengthen, local partnerships are developing too - nearby Kingdom Housing Association recently contributed funding to install a wheelchair access ramp for a resident in need at Robert Smith Court.
This project is an incredible example of the impact that local people working together and accessing support can have on community cohesion and residents' wellbeing.
Find out more about the Social Housing Partnership Fund.