Monitoring/Policy
Charity empowering more women to cycle recognised as Scotland's 'Cycling Champion Awards' are announced
26 October 2023
Scotland's national 'Cycling Champion of the Year' Awards, were announced today during Cycling Scotland's annual conference, held in Edinburgh.
Now in their seventh year, the awards are organised in partnership between Cycling Scotland, Sustrans, Cycling UK and Scottish Cycling, recognising those who are significantly supporting cycling across Scotland.
Efforts to break down barriers to cycling and promote its many positive benefits all played a key role for this year's winners.
Visionary Champion of the Year – Shgufta Anwar, Women on Wheels
---
Shgufta Anwar is Founding Director of Glasgow based community cycling charity Women on Wheels, a community cycling hub based in the Govanhill area of Glasgow, which works to break down barriers to cycling for women, girls and families.
Since launch just over a year ago, the charity has supported hundreds of women in the local community to get into cycling through outreach events, led rides, training sessions and community cycling festivals.
Shgufta Anwar: "My thanks to everyone who nominated me for this award. It fills me with pride to hear that we're reaching people through our work, and the idea is inspiring women to get on their bikes. I'm grateful to be recognised and will continue working to make sure that if there are women who don't know how to cycle, we'll support them to overcome their barriers and get on a bike."
Inspirational Champion of the Year – Mavis Paterson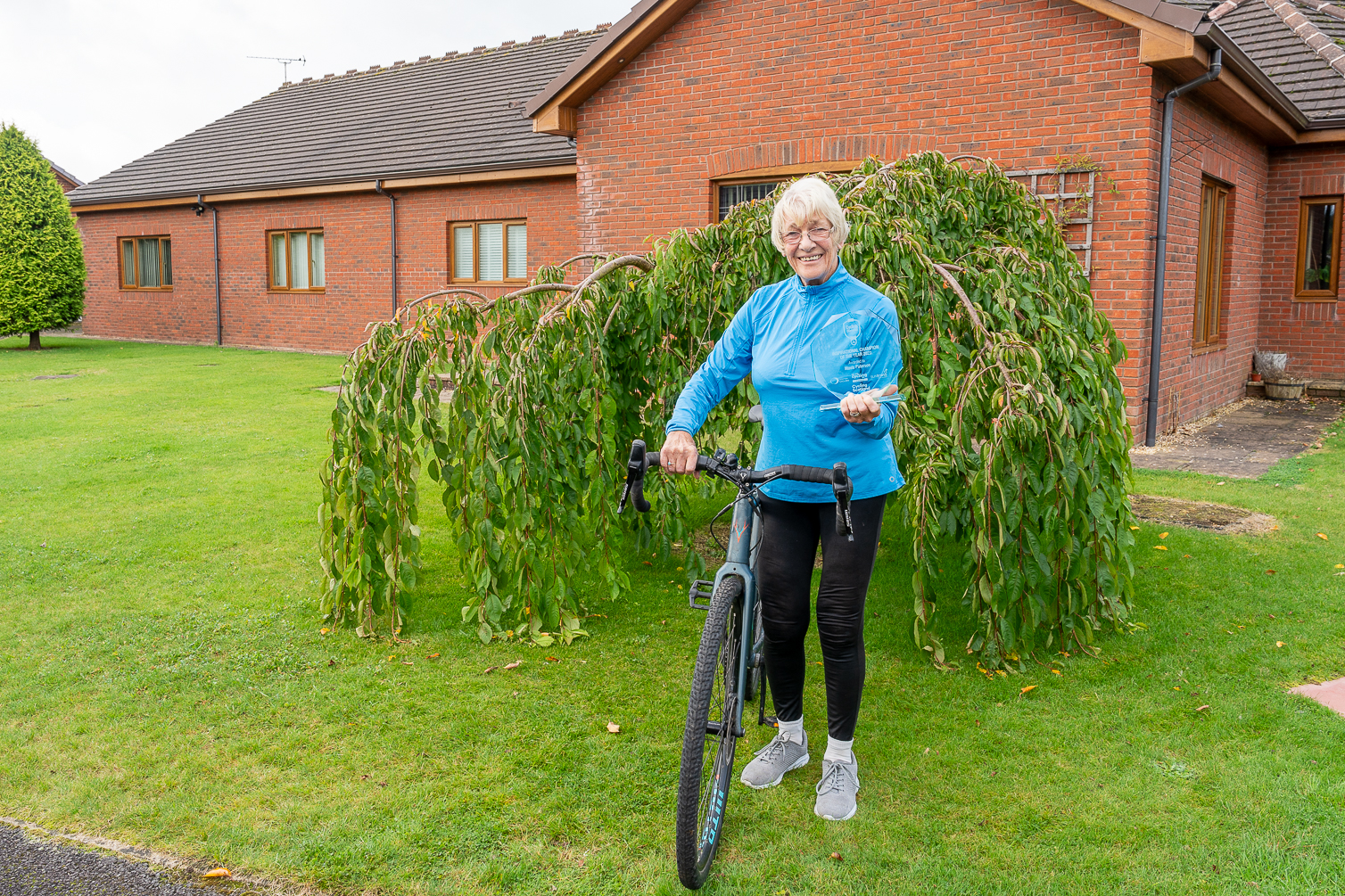 ---
85-year-old Mavis Paterson of Wigtownshire, better known as 'Granny Mave', has been named winner of the Inspirational Champion of the Year Award, in recognition of her commitment to cycling and her extraordinary fundraising efforts through long-distance cycle rides across Britain.
In May 2023, Mavis captured the country's attention by completing a 1,000-mile cycle around Scotland, helping to raise £60,000 for Macmillan Cancer Support, in memory of her three adult children who died within four years of one another.
Mavis Paterson: "I am so happy to learn that I've been given this award. I certainly did not expect it and wish to thank all who voted for me. Cycling is so important to me and even when I'm not travelling these great distances, I am out on my bike every single day, taking in the beautiful scenery in my corner of Scotland."
Community Champion of the Year for Everyday Cycling – Andy Gilbert, The Glenburn Centre, Glasgow
---
Andy Gilbert is project co-coordinator of The Glenburn Centre in Easterhouse, Glasgow.
Located in the heart of Easthall in Easterhouse, Glasgow, The Glenburn Centre offers support and a varied activity schedule aimed at increasing social, educational and employability opportunities for residents of Easthall and wider communities.
In the last year, the centre's team has organised cycling day trips for members of the community, assisted delivery of Bikeability Scotland training sessions at local schools, and expanded the centre's cycling facilities with new secure bike storage.
Andy Gilbert: "Cycling is such an important skill and really important to us as an organisation. It can support many aspects of life, whether better physical health or mental health, and it's just great to help people get out in to the open and make social connections."
"It's an honour to just have been nominated. Winning this award gives everyone at the Glenburn Centre the boost that we need to continue going in the right direction."
Community Champion of the Year for Sport and Recreation – Matthew Ball, Project Lead for the West Lothian Cycle Circuit
---
Matthew Ball is a Trustee of Linlithgow Community Development Trust and founder of West Lothian Clarion Cycling Club.
Matthew has been named Community Champion of the Year for Sport and Recreation, celebrating his contribution as a cycling coach in West Lothian and his role in leading the creation of the West Lothian Cycle Circuit, a new £1.25m outdoor cycling facility which opened in Linlithgow in May 2023.
Since opening, the 1km flood-lit circuit has welcomed more than 5,000 people, including cycle clubs and community organisations.
Matthew Ball: "It's a great honour to be recognised with this award. I'm part of a big team, so this is an award for the whole Development Trust and many others. I also want to thank the many local cycling clubs from across Scotland who supported the vision to deliver this cycling circuit. Having this space where people can develop their skills and build their confidence on bikes will be transformational."
Cycle Shop Champion of the Year – Shetland Community Bike Project, Lerwick
---
Established in 1999 by Caroline Adamson as a non-profit charity, the Shetland Community Bike Project is a cycle shop located in the centre of Lerwick. The shop has been recognised for its support for cycling in local communities, and key role in promoting cycling as a sustainable and healthy option for all.
As a core part of its work, the Bike Project provides opportunities for people with barriers to employment, helping them to reach their full potential through voluntary placements and training. Every year, the Bike Project helps more than 30 people gain practical work skills, confidence and experience through bike repair, and supports varied cycling events across Shetland.
Caroline Adamson, Manager of Shetland Community Bike Project: "We're thrilled to have won. Winning this award shows recognition for all the hard work that's been put in by all of our volunteers, staff, board of directors and everyone we work with in the community. We'd like to say thank you to the organisers and to everyone who nominated us."
Business Champion of the Year – Outline Hair, Edinburgh
---
Outline Hair is a hair salon based in Edinburgh's Old Town, and winner of Business Champion of the Year.
Having experienced difficulty with storing her bike at previous workplaces, owner Kay Corbett was determined to make her new salon as cycling friendly a space as possible when opening the business in 2020.
In providing dedicated indoor space for cycle parking for both customers and staff, Kay has helped foster a welcoming environment for anyone choosing to travel by bike, with nominations commending her proactive and positive support for the wider health benefits of cycling.
Kay Corbett, Owner of Outline Hair: "It feels so great to be recognised for the choices we're making as a business. Having always cycled to work, I know how much of a problem it can be to not have anywhere to keep your bike. So, it's important to me to do anything we can to help staff or clients who want to get to the salon by bike to be able to do that easily."
Young Champion of the Year – Hubert Przychodzen, Falkirk Junior Bike Club
---
Hubert Przychodzen, a volunteer coach with Falkirk Junior Bike Club, has been named Young Champion of the Year, in recognition of his commitment, enthusiasm and creativity to make things better for other young people within cycling.
At 17 years old, Hubert has become one of the youngest qualified cycle coaches in the country, devoting much of his spare time to helping organise race events throughout the year for other young riders in Falkirk and beyond.
Hubert Przychodzen: "I got into cycling during the pandemic, and it's become really important to me. I've been a coach for nearly three years now and I love everything about it. I want to keep working towards a future in sport cycling, and this award will definitely inspire me going forward. Thanks to everyone who nominated me, as it means a lot to be rewarded for the effort that I've put in."
A spokesperson for the awards panel said: "We are thrilled to be able to celebrate each of these worthy award winners, who have each worked incredibly hard to support cycling in their local communities and to champion the many benefits that cycling can bring."