Community
Student uses cycling to plot route to lockdown fitness
2 September 2021
"The first step is always the hardest. Just go and you'll feel much better."
"There's nothing to be scared of" is how Asinath Marealle (28) a student based in Edinburgh sums up her experience with cycling.
While she learned the basics of riding a bike as a child in Tanzania, she was unable to access a bike during her transition into teenage years or after re-locating to Reading, meaning Asinath didn't continue her journey in cycling.
"When I was working at the University of Reading, I wanted to be healthier and increase my fitness. I lived close to where I worked so a bike was a perfect way to travel and get fit. I was able to get a donated bike which I used to teach myself how to ride."
When Asinath moved to Edinburgh to start her studies she wasn't able to bring the bike with her.
When lockdown happened, I found it really hard to motivate myself to get out. I gained weight and it really impacted my mental health. I was advised for my physical and mental health to go back to regular exercise. Cycling seemed like a great way to do that. The first step is always the hardest. Just go and you'll feel much better.
After picking up a second-hand bike, the next challenge was finding the right training to help increase her confidence to cycle safely in the city. Internet searches led Asinath to the Rannoch Community Centre in Edinburgh where adult training is available.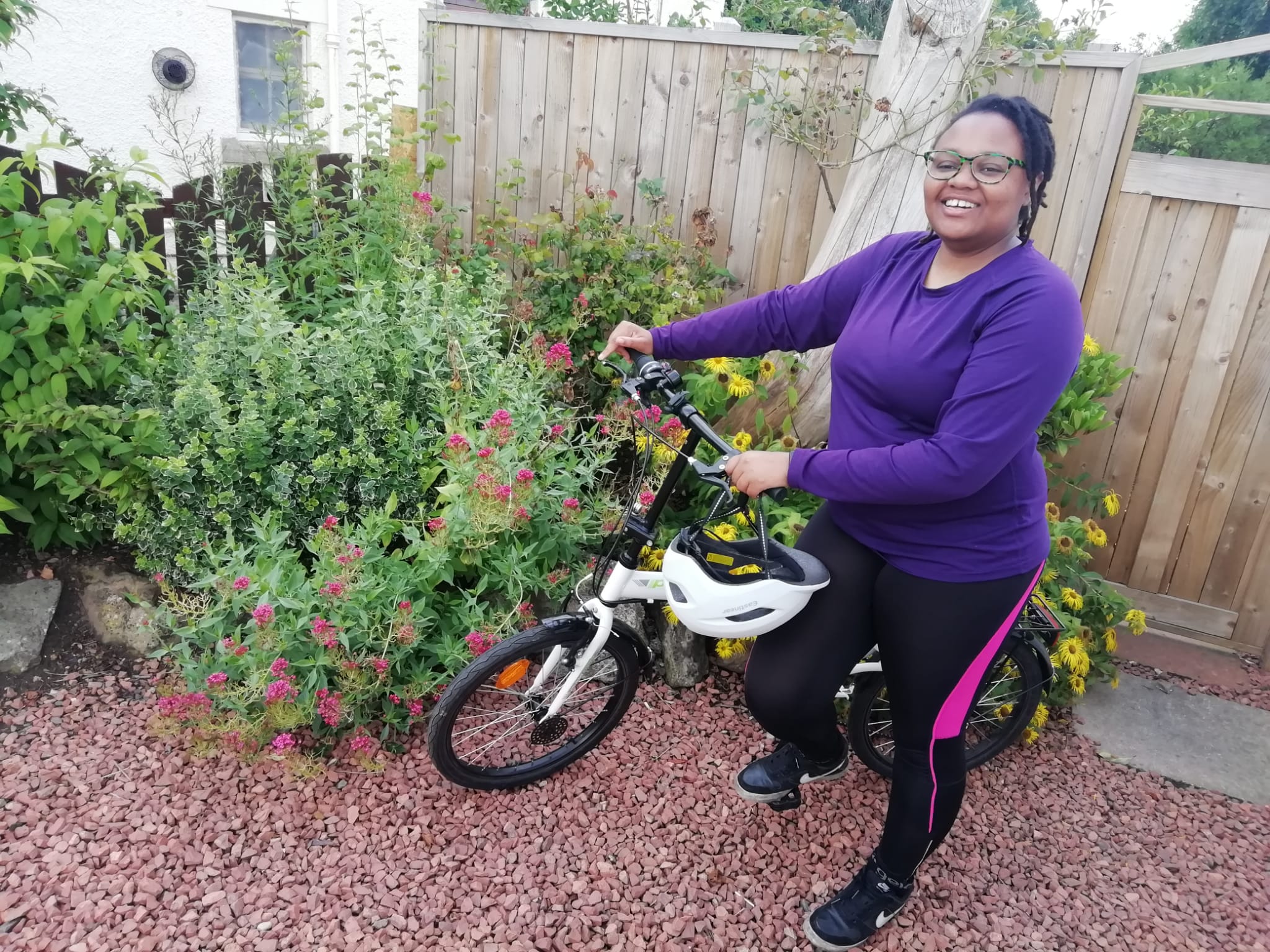 "In my first session they taught me how to wear a helmet properly, I didn't realise there was a right way to do it! I learned how to brake, navigate properly and how to control my bike."
As a university student, Asinath is using her new skills when travelling to and from classes. "The sessions are helping me to plan my routes. Edinburgh has such a good network of cycle paths, I can use them to ride from home to the classes.
"I'm still building confidence in my balance when signalling, working towards cycling on road".
When asked about the benefits of learning to cycle, Asinath has a long list!
"I've been cycling consistently three times a week for five weeks now. I can already feel a change in my weight which I struggled to control during lockdown – it feels awesome!
Cycling is such a great way to travel on a budget as well. I can travel all around the city on cycle paths.
"At the end of a long day riding I can get home and feel so energetic. If I didn't get a bike, my fitness would be really bad, I wouldn't go out."
Speaking to anyone who is considering cycling but feels apprehensive about their ability to learn as an adult, Asinath says "it can be scary, the first step is always the hardest. If you're doing it with a wonderful community everything will be fine.
You always feel better at the end of the day. Just go, there's nothing to be scared of!
If you're an adult looking for cycle training, visit Adult Cycle Trainnig.
The Rannoch Community Centre in Edinburgh received funding through Cycling Friendly.