Support for retailers
Support staff, customers and tenants to choose cycling as a a healthy and sustainable way to get to your store.
Retailers across Scotland can access tailored, impartial support and funding through our nationally recognised Cycling Friendly Employer programme, to discover the economic and environmental benefits of the bike for commuting and local deliveries.
We currently work with more than 800 workplaces across Scotland to help staff cycle to work and during working hours. This support is available for the retail sector and is beneficial for business efficiency and staff health and wellbeing.
We can help with:
Support to attain the nationally recognised Cycling Friendly Employer award
Funding to provide secure and covered bike parking for staff and customers
Information and guidance on making local deliveries by e-cargo bike
Cycle training for staff to increase confidence and road safety skills
Increasing access to bikes for staff through the Cycle to Work scheme
Increasing access to bikes for staff on short term contracts
What? Apply for funding for facilities such as secure and covered bike racks and pool bikes that will make it easier for staff and customers to choose cycling.
Why? Promoting cycling can support a happier, healthier workforce, increase business efficiency and shopping opportunities for customers, and tackle climate change.
Who? The fund is available to all retailers in Scotland who are working towards becoming a Cycling Friendly Employer.
How?
Our nationally recognised award provides a framework, resources and one-to-one support to increase staff cycle rates, and rewards those organisations working hard to encourage workplace cycling. Assessors from accredited Cycling Friendly centres across Scotland will support you through the process.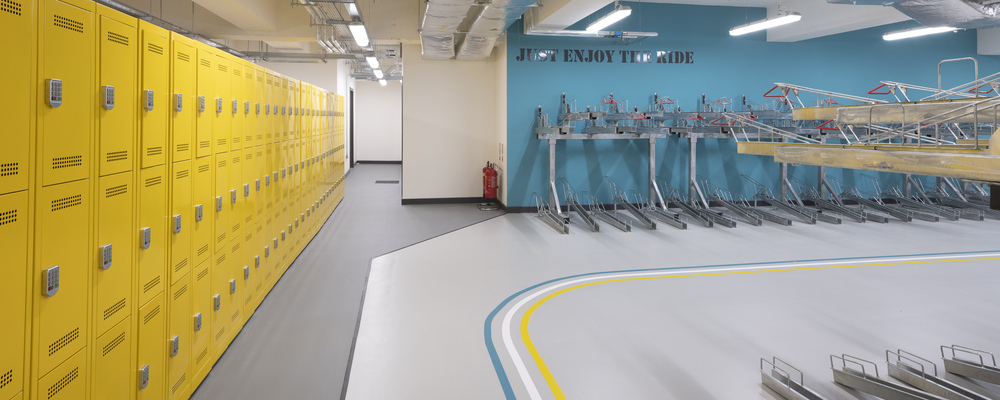 Skypark is a thriving business park in Glasgow serving 3,000 people in retail and office accommodation. Securing funding has enabled Skypark to make capital improvements to create a cycling friendly destination for all staff and visitors to benefit from, and in October 2020 they achieved the Cycling Friendly Employer award.
Tenants choosing to cycle to and from Skypark now have access to 375 bike parking spaces, comprising 250 indoor and 125 outdoor including 62 short stay spaces. Facilities include eBike charging points, 236 lockers, segregated showers and changing facilities, a drying room, a dedicated cycle repair space and a host of engagement services.
Cycling Friendly status transforms Skypark into Glasgow's biggest and most cycling-friendly private business destination.
Skypark's Strategic Lettings Advisor, Angela Higgins of Resonance Capital said: "We are very proud to be Cycling Friendly and to set a new benchmark in employer cycling facilities in the City. With a cycling boom and the growth of the City's cycling network, we hope that more people will enjoy the freedom of cycling and consider it as an alternative mode of travel when they are ready to return to the office."