Nursery/School
Family finds independence through Adult Cycle Training
12 August 2021
"After taking the course I feel a lot more confident to lead family bike trips safely."
A family from Bridge of Allan in Stirling have increased their self-confidence and independence in cycling by taking an Adult Cycle Training (ACT) - Family course with Cycling Scotland.
The Hilarion family; mum Anne, dad Michael and two children Miles (11) and Rosa (9) spent an afternoon with a qualified Cycling Scotland instructor learning key practical skills, road awareness and route planning which will be a great help to the whole family.
Parents Anne and Michael learned to ride bikes as children and while Michael retained cycling as a hobby into adulthood, Anne didn't own a bike until her children started to learn.
A route to freedom and independence
The pandemic and restrictions on travel had inspired Anne to take the family out for bike rides locally. "In the last year when the roads were quieter, we did more cycling as a family. It was a great way to get a little further from home and enjoy a bit of freedom in the countryside."
The inspiration to find the Adult Cycle Training course came from eleven-year-old Miles' impending move to secondary school.
I was conscious a lot of the kids cycle to school and while my son lacked road awareness, I didn't have the confidence to teach him. We needed some expert guidance.
The family found the ACT course through their local bike shop in Stirling Recyke-a-bike and an afternoon session with instructor Andrew Abbess was planned.
Expert, practical advice
In a call with Andrew the instructor, Anne explained their requirements. "On hearing Miles starting high school was a motivation behind us taking the course, Andrew suggested we host the session in the car park of the high school. This gave us real world experience that Miles will use on his journeys to and from school".
Anne was very impressed with the breadth of knowledge the family took from the course. "The course was great and pitched at just the right level. It was full of practical advice including how to check your bike is in good order and what maintenance to do and when.
"Andrew took us through various drills that we could all participate in including braking, turning and weaving between cones. We also went out together as a group on the local roads Miles will cycle when travelling to school, which gave really good, relevant practice."
From there, Andrew was able to teach the family about issues around cycling, including route planning and road awareness.
Kids can often be confident on their bikes but a bit blasé about the safety issues. Andrew was really good at explaining to us all how to stay safe, where to position yourself and how to share the road with cars and buses.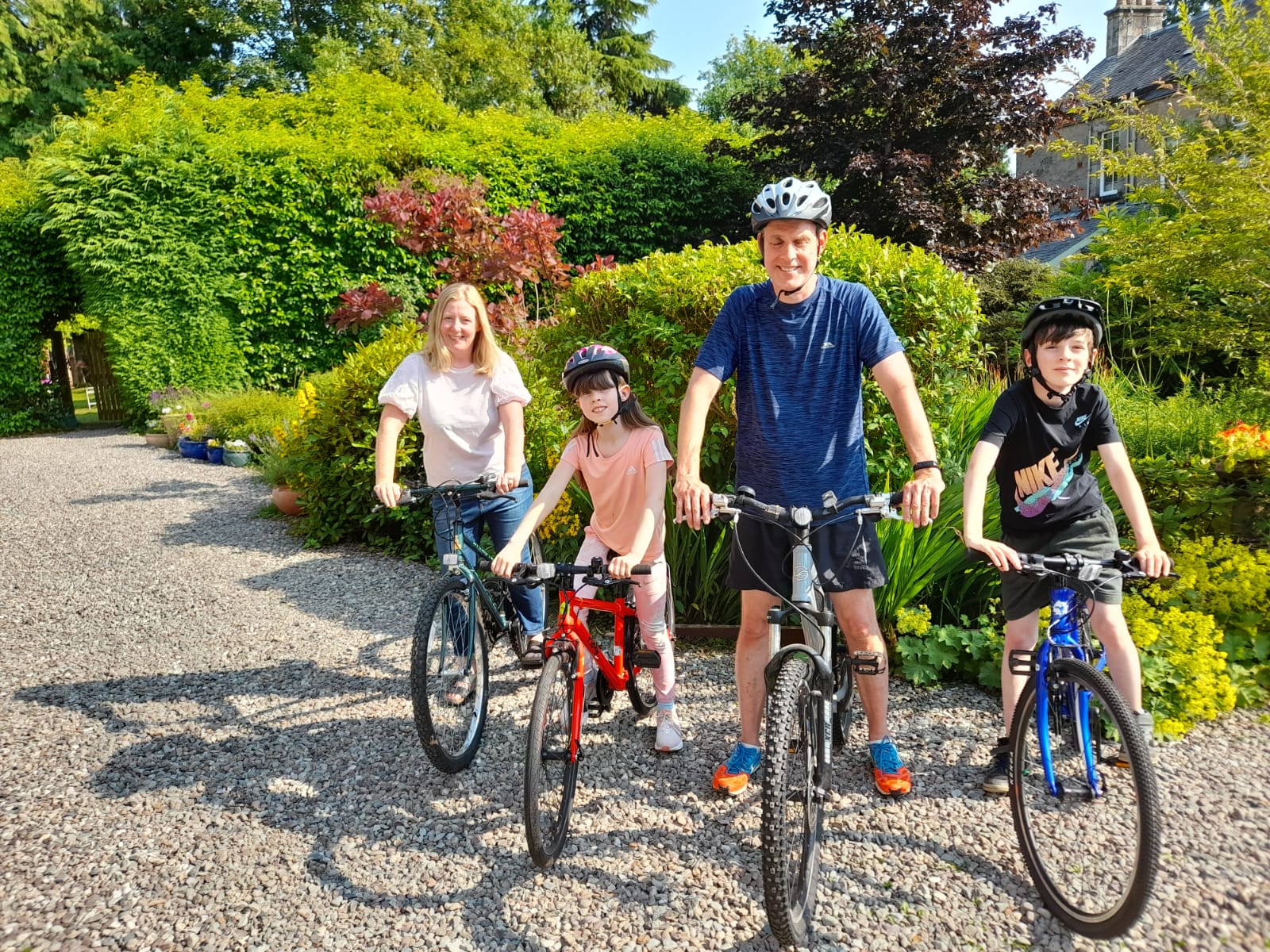 Growing confidence
While the kids took a lot from the course, Anne also gained a lot. "After taking the course I feel a lot more confident to lead family bike trips safely. I've also gained a new perspective on how to safely pass people on bikes when I'm driving."
Looking ahead, the family plan to continue learning together and spend holidays doing day trips.
"It was great to learn new things on the course alongside the practical side of getting out on the roads. Andrew the instructor shared with us some maps of the local area with cycle-friendly routes for inspiration. We can't wait to get out and explore the countryside around us on our bikes.
Most importantly, Miles has the confidence to travel to high school on his bike when the time comes and we as parents have the confidence in his cycle skills to travel safely.
Learn more about Adult Cycle Training and the other courses offered by Cycling Scotland.