Kingussie Medical Centre & Leverndale Hospital
Helping healthcare staff to cycle in the city and countryside
Through Cycling Scotland's Cycling Friendly programme, over 40 medical centres, GP practices and other frontline health and social care providers are making it easier for staff to choose a healthy, sustainable, and affordable way to travel.
For health and social care providers, travelling by bike can bring many benefits:
cycling supports good physical health of the staff
provides an opportunity for staff working in stressful situations to have a chance to decompress
supports the NHS board to meet its sustainability commitments.
quicker and more reliable to reach appointments or home visits, without having to search and pay for car parking.​
Healthcare providers in Kingussie and in Glasgow share their stories on how staff are benefitting from getting on their bikes…
Kingussie Medical Centre is just one of the practices to benefit from Cycling Friendly support. A rural GP centre on the edge of the Cairngorms National Park, the practice responds to the needs of 3,000 people in the Highlands.
Before engaging in the Cycling Friendly programme, the number of staff cycling to or at work was low: there was nowhere safe to lock bikes, leaving them at risk of theft as well out in the elements, and there was nowhere to leave jackets, spare clothes or helmets.
Aiming to make it easier for staff to walk and cycle, the practice spotted the opportunity of a new extension as a solution for integrating better storage and bike parking.
In October 2021, the medical centre received just under £3,500 from the Cycling Friendly Employer programme to install sheltered cycle parking and lockers.
Practice Manager, Christian Aitken, said that since the facilities have been installed "we have seen a noticeable increase in staff riding to work. Previously there was only one or two members who would ride to work whereas now this has increased six-fold to a regular group of staff members who cycle to work, and sometimes more on nice days."
---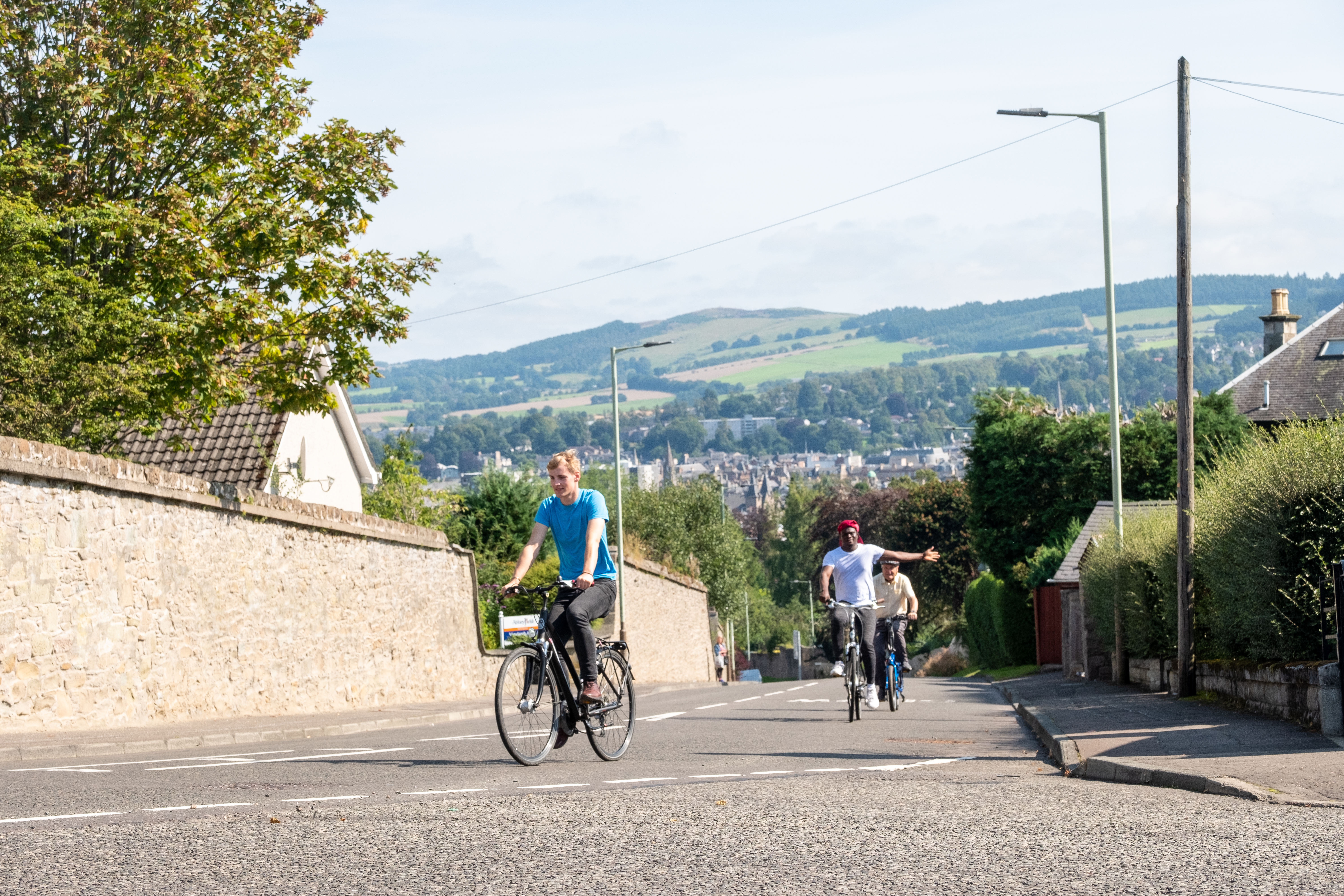 ---
In May 2022, the practice received a four-month e-bike trial through Home Energy Scotland for use within the practice for staff and patients. The bike was used with the aim to introduce more staff and patients as to the benefits of an e-bike and its ease of use. This was often used at the weekends where staff went out for rides with other members of their families.
Christian said that "the uptake within staff using the bike was excellent", with practice e-bike being used on hospital and home visits to patients' houses as a valuable alternative to using the car.
---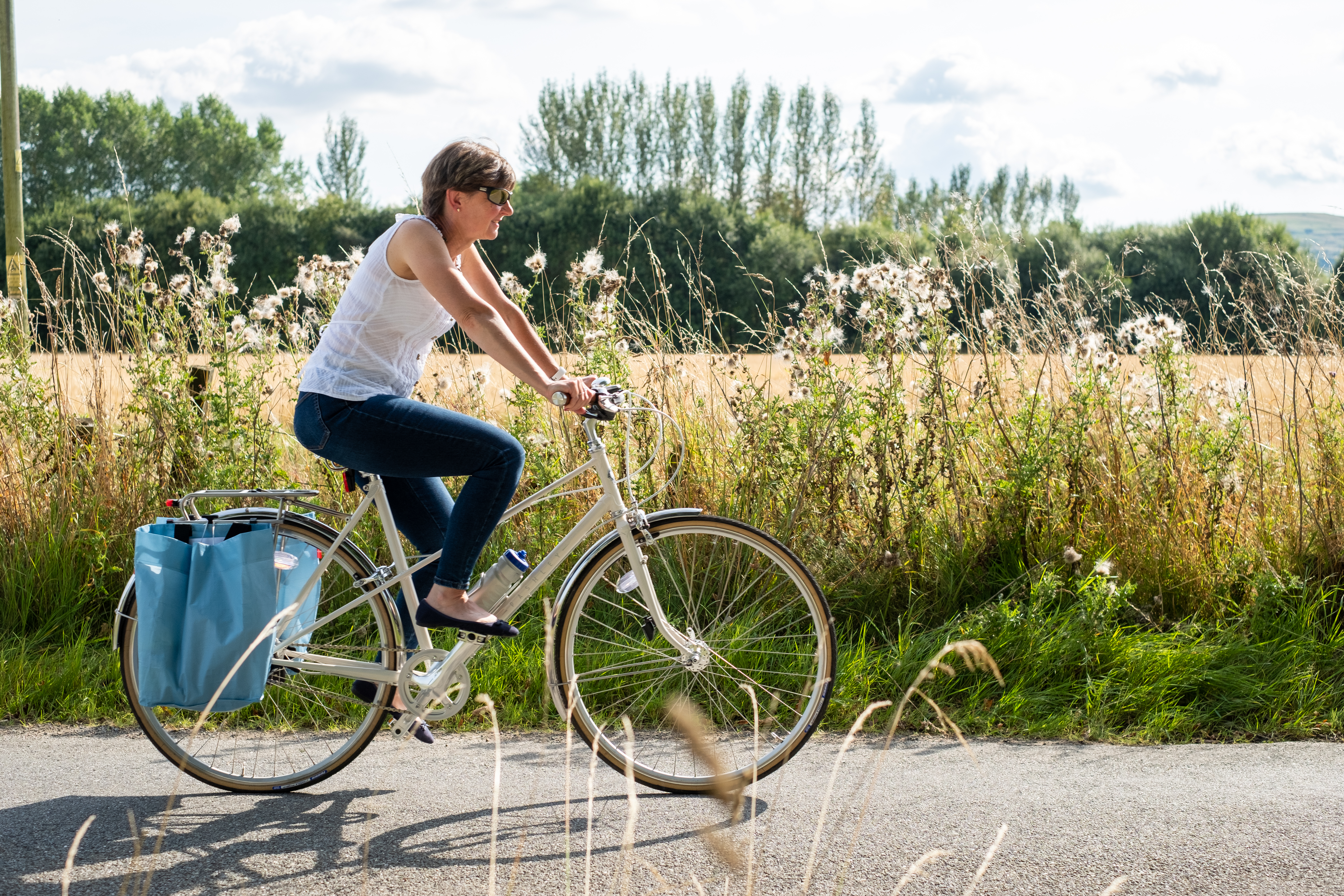 Health and social care staff working in cities can also benefit from the Cycling Friendly programme to support them to make journeys by bike.
Leverndale Hospital offers care to adults with complex mental health difficulties in the south of Glasgow and, in October 2021, received £24,000 to install two secure cycle shelters, public bike stands, lockers for clothes and equipment and the conversion of two toilet areas into wet rooms.
---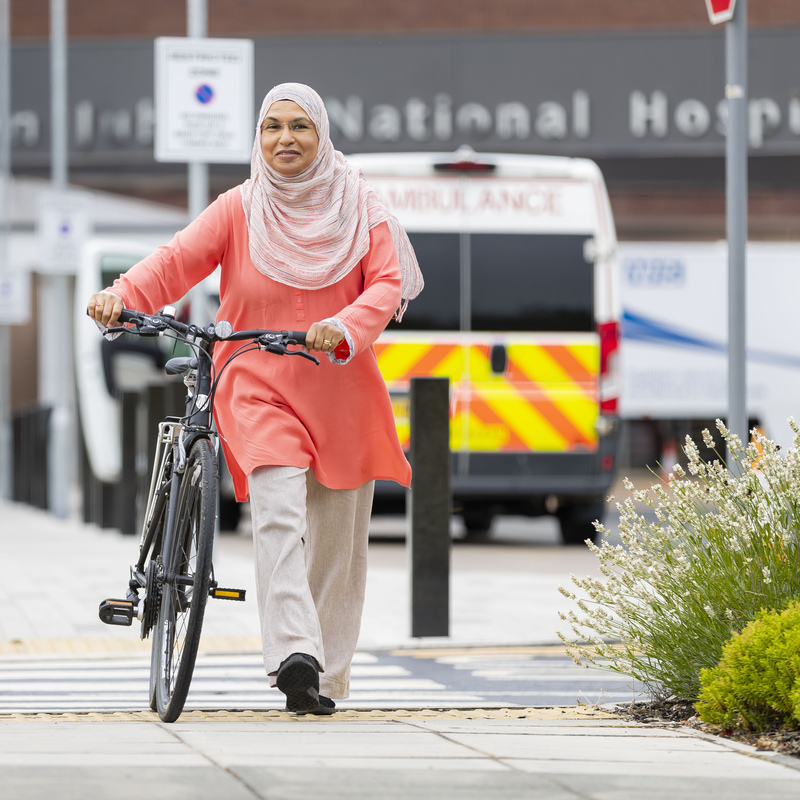 ---
Denis Sweeney, Travel Planning & Systems Manager at NHS Greater Glasgow and Clyde said that staff were discouraged from cycling: "there was a lack of secure cycle shelters, insufficient bike stands and insufficient showering facilities. These issues were barriers to staff cycling on a regular basis."
The new facilities allowed the hospital to address these issues: "the site is quite large and one of the key outcomes was having secure shelters at two different areas of the campus, allowing staff to have easy access to a secure shelter near their place of work. As they have been installed in prime locations, we hope their visibility will encourage more staff to cycle to work. By installing wet rooms in toilets, we have provided showering facilities at a busy area and, combined with the improved provision of lockers for storing items, and secure storage for 20 bikes, this has removed a major barrier to active travel".
---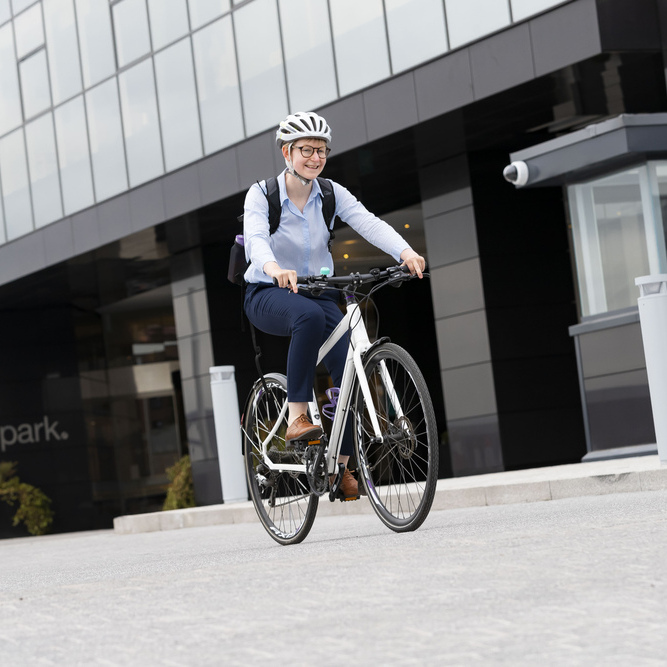 ---
Denis describes that there are more bikes being used across the hospital campus and the shelters and stands are now used regularly.
"With the increased cost of transport, we have put the building blocks in place to have better infrastructure and facilities for staff to opt for active travel.
"This project dovetails perfectly with our key aims to reduce single car use and for staff to view active and sustainable travel as being the "norm". The more barriers, real or perceived, that can be removed to active and sustainable travel can only assist us."
NHS Greater Glasgow and Clyde has been recognised as a Cycling Friendly Employer for their commitment to promoting cycling at multiple healthcare centres, and gained their certificate for Leverndale Hospital in July 2022 following the installation of the funded facilities.
Alongside providing workplace facilities at Leverndale, NHS Greater Glasgow and Clyde offers a Cycle to Work scheme, has cycling information easily available to staff, regularly hosts cycling events such as Dr Bike sessions and bike marking with Police Scotland, and offers training such as Practical Cycling Awareness for fleet drivers.
"Achieving the Cycling Friendly Employer award demonstrates NHS Greater Glasgow and Clyde are serious in their commitments to remove barriers to cycling for our staff and to see it as a normal everyday method of travel."